Pandan burn cheese cake versi keto. This Coconut Pandan Basque Cheesecake puts a spin on your traditional Basque Burnt Cheesecake. Pandanus amaryllifolius [Pandan] is a herbaceous tropical. Pandan smells floral, sweet, herby and grassy all at once.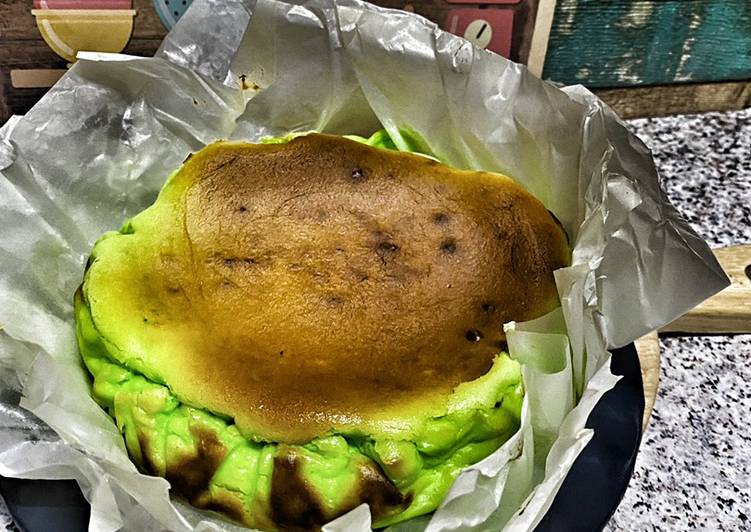 The pandan plants featured in the video are actually from my. Pandan leaves also known as Asian Vanilla, is Malaysian's favourite natural flavouring and colouring. We all grew up at least eating one food made from. You can have Pandan burn cheese cake versi keto using 8 ingredients and 8 steps. Here is how you achieve it.
Ingredients of Pandan burn cheese cake versi keto
Prepare 350 g of cream cheese (i ols guna tatura je).
Prepare 125 g of heavy cream (anchor).
You need 2 of biji telur gred A.
You need 15 g of almond flour.
You need 1 tsp of vanilla.
It's 1 tbsp of coconut pandan emulco (leh je guna pati daun pandan tu).
You need 50 g of santan kara.
It's 80 g of lakanto (ini terpulang) dah biasa x makan manis haha.
Pandan burnt cheesecake is moist and fragrant. In this recipe, the addition of coconut milk enhances its flavour. Mga KaJourney another recipe na I can recommend po. Masarap ito kainin during your lunch!!!
Pandan burn cheese cake versi keto step by step
Menggunakan hand mixer, mixed cream cheese hingga lembut.
Kemudian masukkan gula (lakanto) mixedkan sehingga licin dan tidak berketul.
Dengan kelajuan yang rendah masuk kan telur sebijik demi sebijik.
Masukkan essen vanilla dan emulco.
Masukkan heavy cream dan di selangkan dengan tepung (almond flour).
Masukkan santan dan mixed sehingga sebati.
Masukkan ke dalam loyang 7 inc nak tggi gunakan loyang lagi kecik. Masak pada suhu 220C selama 35 minit.
Sejukkan dalam loyang dan keluarkan apabila sejuk.. nak lagi sedap simpan lam peti ais.. esok makan…haihh x sabar nak makan.
Mas masarap siya sa gulaman. promise!!! Make way for the new crowd-favourite cake-of-the-moment: none other than the Basque Burnt Cheesecake. After a few attempts at trying to make a keto-friendly version of Basque. Oh, basque burnt cheesecake…basque burnt cheesecake. Where have you been my whole life!